iSuo Chem® devoted for developing best and most popular effect of pearl pigment. We developed over 100 colors in 15 years, and we kept 95%min color consistency from batch to batch. Good pearl effect giving by pearl pigment can make your product value-added. Get your best pearl effect with iSuoChem now!
Ingredients and Composition

Mica

70-74%

Titanium Oxide(TiO2)

26-30%

Specification

Particle Size Distribution

80% within the range 10-60 µm D50 22±2.0

Visual and Colorimetric evaluation

conforms

pH (10% Aqueous Suspension)

7.0 -11.0

Loss on Drying(105℃)

0.5 % max

Oil Absorption

70-90 g oil/100gpowder

Bulk Density

15-30 g/100cm3

Density

2.8-3.4 g / cm3 (water=1)
Download: TDS, MSDS
---
COLOR CHART & SIZES DISPLAY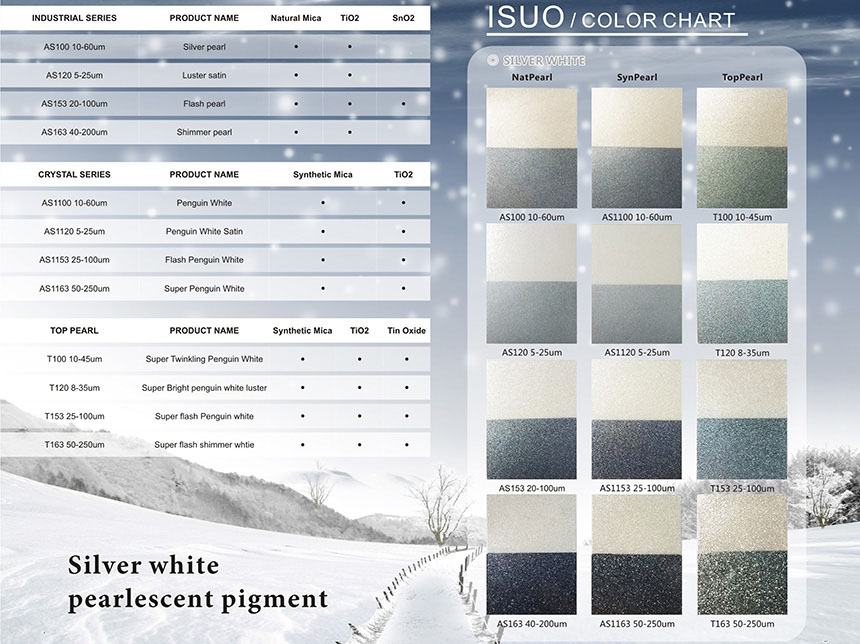 ---
APPLICATION
Paint

ISUO CHEM Pearl pigment is widely used in many types of paint such as construction material, coil coating, powder coating,leather/wood

/plastic coating, electronics, motorcycle and automotive components, OEM painting etc.




Plastics

ISUO CHEM Pearl pigment is used for all thermoplastic &

thermosetting plastics, such as automotive components, cosmetic packages, films, toys, daily products and art works, etc.






Printing ink

ISUO CHEM Pearl pigment is used for both water-based and solvent-based printing ink. It is also suitable for different printing method such as offset printing, gravure printing, screen printing, etc.






Cosmetics

ISUO CHEM Pearl pigment gives the color palette of lipsticks, eye shadow, nail varnish and other cosmetics a constant stream of new and attractive trends and effects.





---
Q
UALITY CONTROL





ISUO CHEM




From Other Suppliers




Application labs for plastic, printing, coating etc. Aimed at providing technical support and stable quality products.




Higher covering powder




Low covering powder




Higher whiteness

Less whiteness
To ensure good consistency from batch to batch, we use automatic applicator to make color card for every batch and compare with standard sample. For some application, we are able to simulate the real production in lab according to client's requirement. This would help client in their R&D also help us to keep consistency.
---
PACKAGING OF SILVER WHITE PEARL PI

GMENT

Tips: Loading instructions
25kg/carton, 18 drums on 1 pallet, 9MT/20 pallets in 20'FCL or 18MT/40'FCL
Customized package or OEM labels are available. We have carton and fiber drum for your choice
---
RELATED READING OF COATING PEARL LUSTER PIGMENT